Olivet EFC- Spring Lake and muskegon, MI
May 1, 2020
Dear Olivet family,
1 I will praise the Lord at all times. I will constantly speak his praises.
2 I will boast only in the Lord; let all who are helpless take heart.
3 Come, let us tell of the Lord's greatness; let us exalt his name together.
4 I prayed to the Lord, and he answered me. He freed me from all my fears.
5 Those who look to him for help will be radiant with joy; no shadow of shame will darken their faces.
6 In my desperation I prayed, and the Lord listened; he saved me from all my troubles.
7 For the angel of the Lord is a guard; he surrounds and defends all who fear him.
8 Taste and see that the Lord is good. Oh, the joys of those who take refuge in him!
9 Fear the Lord, you his godly people, for those who fear him will have all they need.
10 Even strong young lions sometimes go hungry, but those who trust in the Lord will lack no good thing.
As the virus continues to spread, the restrictions are being tightened, let's be gracious and wise in our response to this. If your personal perspective is more or less "apprehensive", don't be angry with those who don't see things exactly the same way you do. Do everything in your power to help the slowing of this virus, because the more we heed and restrict now, the sooner this will be appropriately controlled.
In line with the Governor's executive order,
we are cancelling on campus services and gatherings until May 15.
. We will continue to provide content (teaching, worship, devotional challenges, updates and encouragement) online, If you have not both "Liked" and "Subscribed" to Olivet's Facebook page, you are going to miss some of those things. Please do that right now!
Olivet's Facebook
CURRENTLY: Our Harvey campus will be keeping normal office hours (more or less) so the church family can call with questions and needs and so that our "Meal Maker" ministry can collect and distribute food to those in need. The office entrance door will be locked so you will need to call or knock to get staff attention. It might be wise to call before driving to the campus to make sure staff is available to you. The Marquette campus will be closed for the time being, but calls to the Marquette Campus will be forwarded to the Harvey campus.
OLIVET BEING "BEST NEIGHBORS": We received a call from ProMed ambulance that their crews were being turned away at police and fire stations (where they normally go to use restrooms and use microwaves to heat meals. They wondered if we would give them access to our Marquette Campus so they could access the facilities for those purposes. Starting today, and until some of the restrictions are lifted, ProMed crews will be using our building. It is a blessing to be able to help/honor those serving our community.
GIVING: Our sincere gratitude to the many who have been giving online and mailing your tithes/offerings to the church. Last week, only about 1/3 of our normal weekly giving came in and we know that many of our church family hoped the shutdown was going to be very temporary. With that question now being answered, you have responded with generosity and we thank you!
We'll stay in touch as the weeks unfold.
Pastor Craig for your Olivet staff and leadership
Looking for a way to give back during these trying times? Olivet is partnering with Versiti for a blood drive on Thursday, April 2nd from 1pm-6pm at both of our campuses. To sign up, click on the links below.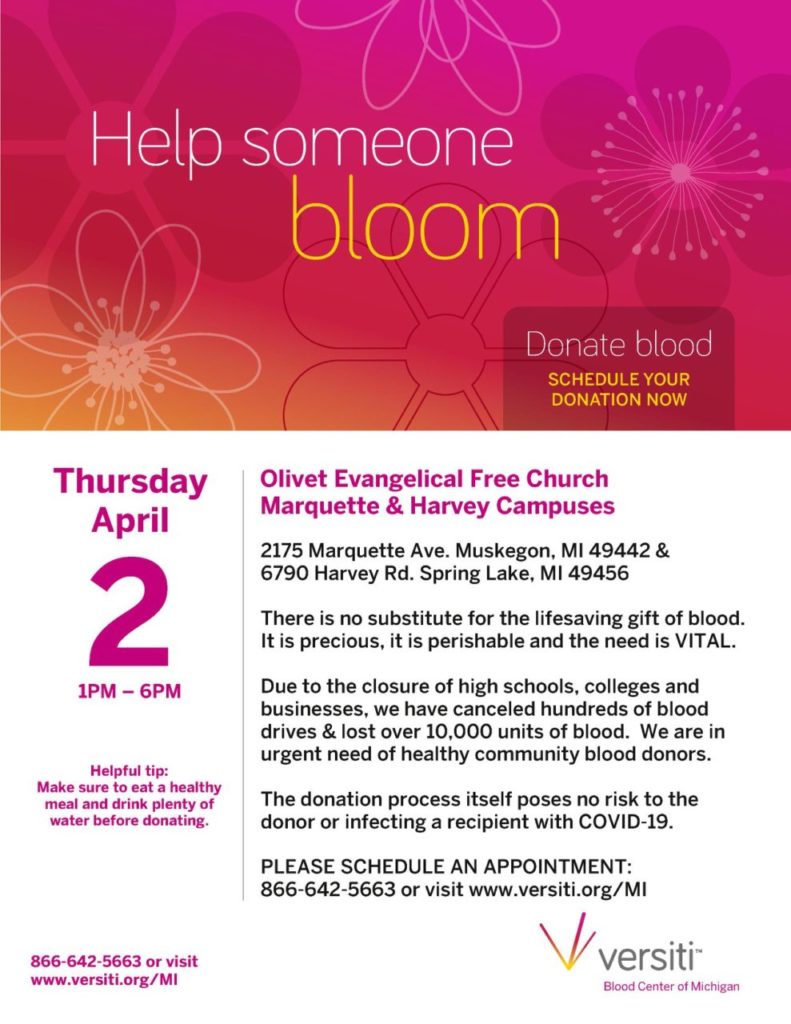 Stay up to date by following our Facebook page and YouTube channel
A message of hope from the president of the EFCA


Not sure how to pray for this? Check out this helpful guide from the Christian Medical and Dental Association
Helpful links for up-to-date information: